On Saturday April 28, 2018, I went to read one of my favorite spiritual blogs, Doctors with Reiki. Reiki Doc Carla is a medical doctor who practices anesthesiology and reiki. This is a twin flame blog. She is very knowledgeable in writing about the spiritual darkness that is around us in terms of satanic ritual abuse (SRA) and how dark energies have infiltrated our churches, Hollywood, the music industry, the economy, health care and others. One of her goals is to help awaken and make her readers more aware of what is really going on so we do not fall prey to it and can support others in their awakening. I am grateful for all I have learned from her.
On April 28th, I read her post for April 27th, because I was a little behind. In this post, I noticed a connection with my blog, concerning poppies. Since I have had this blog up only since April 7th, the timing is wonderful. She wrote about Anzac day:
I had never heard of Anzac Day. I saw the picture of poppies associated with it, so I did some quick research. Learning about this was of great importance to me given the theme of my blog for Robin.  I felt like I was being given a "heads up" from God and Robin to pay attention. I would like to say thank you for this.
I also noticed that the Anzac Day photo with the poppies that Carla posted is nearly identical to the picture of my RAF Bomber Command mug I posted on the Synchronicity and Samhain post.
Here's a little of what I found out about Anzac Day: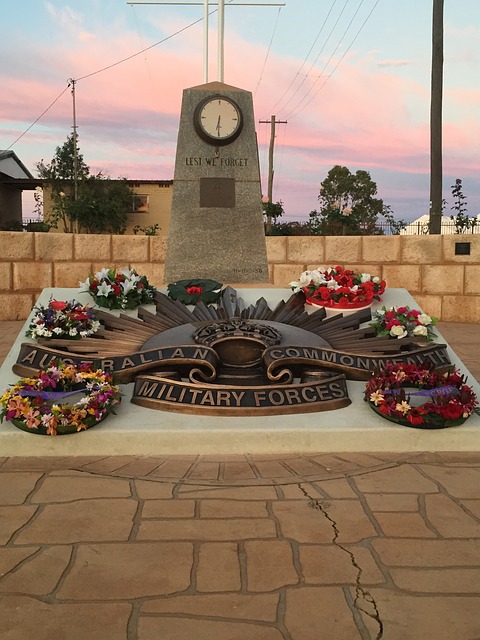 Anzac Day is a national day of remembrance in Australia and New Zealand that broadly commemorates all Australians and New Zealanders "who served and died in all wars, conflicts, and peacekeeping operations" and "the contribution and suffering of all those who have served.
Observed on 25 April each year, Anzac Day was originally devised to honour the members of the Australian and New Zealand Army Corps (ANZAC) who fought at Gallipoli against the Ottoman Empire during World War I. Anzac Day is also observed in the Cook Islands, Niue, Pitcairn Islands, and Tonga, and previously was a national holiday in Papua New Guinea and Samoa."
I offer honor, thanksgiving, and praise to all those who served and died in the countries of Australia and New Zealand, countries so close to Robin's (and the Bee Gees) heart.
This is actually the second time I have had a synchronicity with Reiki Doc and the topic of poppies. On December 2, 2016, I read her blog in the morning and as I scroll down, I noticed the photo of a poppy, along with her message for her guide. She mentions Flanders Field. I was already moved by the fact that she had a picture of a poppy and I felt like this was a sign that Robin was with me. Here is the important excerpt:
I explained to him how in Flanders Field they cover the horror from the carnage and the death, how poppies are good things, and how their simple beauty inspires us all here on earth.
I don't know why, but at this, Raphael started to sob. He said, 'that was beautiful' and he completely understood my point, of how love and beauty cover all darkness in the end…I held him and thanked him again for his kindness to me.
There IS only Love.
---
Here is some additional information about Flanders Fields:
Flanders Fields is a common English name of the World War I battlefields[1] in an area straddling the Belgian provinces of West Flandersand East Flanders as well as the French department of Nord-Pas-de-Calais, part of which makes up the area known as French Flanders.
The name Flanders Fields is particularly associated with battles that took place in the Ypres Salient, including the Second Battle of Ypres and the Battle of Passchendaele. For most of the war, the front line ran continuously from south of Zeebrugge on the Belgian coast, across Flanders Fields into the centre of Northern France before moving eastwards — and it was known as the Western Front.
The phrase was popularized by a poem titled In Flanders Fields by Canadian Lieutenant-Colonel John McCrae which was inspired by his service during the Second Battle of Ypres. The fields were unmaintained for years before they were made into a memorial. Today Flanders Fields is home to tens of thousands of poppies.
Later that same day on December 2nd, I went to read my Bee Gees' book called The Ultimate Biography Of The Bee Gees: Tales Of The Brothers Gibb, Kindle Edition, by Melinda Bilyeu, Hector Cook, and Andrew Môn Hughes. I read through a couple of pages and then I came to this reference to Flanders. I was so shocked, happy and surprised with the synchronicity with the Reiki Doc blog that I cried. It meant so much to me that the events of my daily life were connected with what I was reading about the Bee Gees.
Here is a paragraph to give you some context:
Although concerts in La Coruna, Milan, Lyon and Montpelier were cancelled, the one in Brussels was reprieved late in the day. On hearing that it was going to be cancelled due to poor ticket sales, fan club representative Ann Grootjans intervened. "The promoter helped eventually in fact," she said. "It was the record company's fault, combined with a promoter who started promoting too late. 'When He's Gone' was supposed to be in the shops, but it wasn't, and it got no airplay either." Ann argued that the lack of response was more down to insufficient awareness than the public's apparent apathy. To prove her point, she organised a group of like-minded supporters to go around Belgium's capital and the whole of Flanders putting up posters. They even covered the city of Liège in Wallonia. Within days, the show was a sell-out.
Source:  Bilyeu, Melinda; Cook, Hector; Môn Hughes, Andrew. The Ultimate Biography Of The Bee Gees: Tales Of The Brothers Gibb (2001, 2013, Kindle Locations 15606-15611;15611-15612). Omnibus Press. Kindle Edition.
That is how it works for me with synchronicity concerning Robin. Something going on in my daily life will often match up with something connected back to him that is especially meaningful. Sometimes, all it takes is one word. Even though he is not here in physical form, his energy is still here. My energy and what I do during the day can synchronize with his energy. Items like his book symbolize him. It is mysterious. When the synchronicity occurs, it comes in ways that I never could have anticipated. Due to this, I feel like I am being guided in the choices I make each day that lead me directly into these synchronicities. It also speaks to my connection with other blog writers and people as what they do is mysteriously involved in how this tapestry is being woven. It speaks to the interconnectedness and oneness of many souls.
Thank you for reading!
Christina